YOU WILL NOT FIND A BETTER ANSWER AS TO HOW THE OUTER SPACE MEN WERE CREATED THAN FROM WHAT YOU WILL READ BELOW. THIS IS AN INTERVIEW THAT MEL DID BACK IN 1991 AS QUESTIONEDED BY THE ONCE POPULAR "NAME OF THE GAME" MAGAZINE. ENJOY THIS WONDERFUL STORY OF HOW THESE FIGURES WERE BORN.
DATELINE: APRIL 18, 1991. NAME OF THE GAME IS VISITING WITH MEL BIRNKRANT, CREATOR OF THE OUTER SPACE MEN.
MEL, HOW DID THIS WHOLE ALIEN THING COME TO BE?
IT AM-- USES ME THAT THEY ARE REFERRED TO AS ALIENS. THAT WORD LITERALLY DID NOT EXIST TO ME AT THAT TIME (1967) AT LEAST IN RELATION TO OUTER SPACE. WE DID NOT KNOW WHAT TO CALL THEM. EVERYTHING THEN WAS SO PEDESTRIAN THAT THEY WERE "THE OUTER SPACE MEN."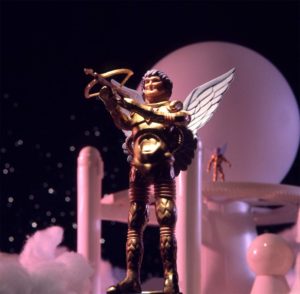 SO FEW PEOPLE HAD SEEN THESE SPACEMEN PACKAGED, THAT IT SEEMS NATURAL FOR
THEM TO HAVE BEEN MISLABELED "ALIENS."
IN THE MID-1960'S I HAD A SMALL BUSINESS IN NYC WHERE MY WIFE AND I WERE MAKING MINIATURE THEATRES, MUSIC BOXES AND AUTOMATONS. WHEN AN ARTICLE APPEARED IN THE NEW YORK TIMES, HARRY KISLIVITZ, WHO WAS THE CREATOR, OWNER AND PRESIDENT OF COLORFORMS PHONED AND SUGGESTED THAT I BE A TOY INVENTOR/ DESIGNER. HAVING BEEN FORMALLY TRAINED IN ARTSCHOOLS HERE AND IN EUROPE, I THOUGHT I WANTED TO BE A PAINTER. WHATEVER I DID FOR A LIVING I DID NOT WANT IT TO DIRECTLY INVOLVE THAT ELUSIVE AMBIGUITY I THOUGHT OF AS "MY ART." SO I GOT INTO THINGS WHERE I WOULD NOT HAVE TO RISK THOSE CREATIVE JUICES FOR AN INCOME. BEFORE LONG, HARRY AND I WERE TALKING NOW EVERY DAY FOR SEVERAL HOURS THINKING UP ALL KINDS OF TOY IDEAS. THE FIRST THING I DID WAS THE "SCARY LIGHT." THIS WAS A STRANGE FLASHLIGHT THAT MADE VERY REALISTIC GHOST IMAGES. COLORFORMS ASKED ME TO SCULPT A SKULL FOR THE END OF THE TOY AND I SAID "NO WAY!" BUT ONCE IT HAD BEEN DONE BY ANOTHER GUY I SAID "WHOA, THIS GUY DOES THIS FOR A LIVING? I CAN DO BETTER THAN THAT!" SO I SCULPTED THE PIECE. THEN ANOTHER GUY WAS CONTRACTED TO DO THE PACKAGE. AND IT WAS SO HORRIBLE THAT THE PROJECT WAS GOING TO BE DROPPED, BY THIS TIME I HAD BECOME HOOKED ON THE THOUGHT OF VAST ROYALTIES… AND I PANICKED!
SO YOU DID THE PACKAGE TOO?
EXACTLY, IF I HAD NOT DONE IT THE TOY WOULD NOT EXIST. IT WAS DO OR DIE. I DID, AND IT STILL DIED. BECA-- USE COLORFORMS WAS A TOY COMPANY (AND THIS IS INSTRUMENTAL TO THE SPACEMEN) THAT MAKE ONLY STICK-ON TOYS, EVERYONE THERE WAS SOUND ASLEEP. THE ONLY ONE AWAKE WAS HARRY. HE WAS AN EXTREMELY INTELLIGENT, CREATIVE AND COMPLICATED MAN. AS AN ART STUDENT HE HAD CREATED THE COLORFORMS CONCEPT TO DESIGN PAINTINGS. HE PUT A KIT TOGETHER AND DID ABOUT $50, 000 THROUGH FAO SCHWARTZ. THE SECOND YEAR HE LICENSED POPEYE AND DID $3,500,000.
THAT WAS BOUT 1956 OR SO?
SOMETHING LIKE THAT. THE IRONY WAS THAT THE COMPANY NEVER MOVED OFF THAT SPOT.
IT WAS THEIR MARKET TO START AND CONTINUE. A PROBLEM OF PRODUCT PERCEPTION AND EXPECTATION?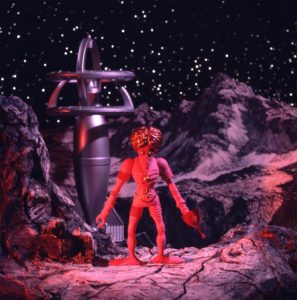 COLORFORMS WAS A COMPANY WHERE EVERYONE WAS VERY COMPLACENT. IT WAS THE DREAMED ABOUT SALES FORCE IN "DEATH OF A SALESMAN." THEY JUST CALLED THE BUYER AND SAID "WE GOT BARBIE, MICKEY MO-- USE… HOW MANY COLORS DO YOU WANT?"
ONCE YOU'D SEEN ONE, YOU'D SEEN THEM ALL.
NO ONE REALLY WANTED TO WORK EXCEPT HARRY. HE HAD CREATED COLORFORMS. SOMEONE ELSE MIGHT HAVE BEEN CONTENT TO JUST COLLECT THE MONEY AND LIVE WELL, BUT NOT HARRY. ALL HE WANTED TO DO WAS REPEAT THE PROCESS WITH A NEW IDEA, IF HE SAW AN IDEA AND HE LIKED IT, HE WOULD DO IT. THERE WAS AN IDEALISM GOING ON WITH HIM THAT WAS TOTALLY IN DEFIANCE OF ALL THE LOGIC WITHIN THE TOY INDUSTRY. HE SHOULD HAVE BEEN DOING PRODUCTS THAT WOULD SIT ON THE SHELVES NEXT TO THE STICK-ON LINE, BUT IF HARRY HAD AN IDEA FOR A BICYCLE, HE PRODUCED A BICYCLE! AND HERE YOU HAD THIS SALES FORCE WHO DIDN'T WANT TO WORK AND SELL ANYTHING NEW. HARRY FINALLY TOLD THE SALES MANAGER "YOU SELL THIS LINE OR YOU GO." THE POOR GUY TOOK HARRY SERIOUSLY, KNOCKED HIMSELF OUT AND DID "GO"- ANYWAY-DIED OF A HEART ATTACK A FEW WEEKS LATER.
THIS HAD GONE ON FOR A NUMBER OF YEARS (2-3), AND IT WAS A LOT OF FRUSTRATION. WE KEPT PRODUCING THE STUFF, POURING EVERYTHING INTO IT AND IT WASN'T EVEN GETTING A FAIR PLAY. WE HAD NO CONCEPT OF WHAT GOOD MERCHANDISING FOR A TOY COMPANY WOULD BE. WE THOUGHT IF IT WAS A GOOD IDEA COLORFORMS WOULD MAKE IT AND PEOPLE WOULD BUY IT. UNFORTUNATELY THEY WOULD NOT BUY IT FROM COLORFORMS.
WE WERE TALKING ON THE PHONE ONE NIGHT, AND I ADMIRED THIS MATT MASON LINE AND SINCE THE WHOLE WORLD WAS EXCITED ABOUT THE COMING OF THE MOON LANDING, IT SEEMED TO BE AN AREA THAT WAS KIND OF HOT AND INTERESTING ENOUGH. ONE OF THE CURIOUS THINGS ABOUT THE OUTER SPACEMEN WAS THAT THEY WERE REALLY THE FIRST BOYS "FANTASY" ACTION FIGURES. UP UNTIL THAT TIME THERE WAS THE DRESS-UP G.I. JOY DOLLS AND CAPTAIN ACTION, WHICH WAS STILL A JOE VARIATION. THE IDEA OF AN ACTION PLAY FIGURE FOR BOYS HADN'T ACTUALLY HAPPENED YET. WELL THE FIRST THING WAS MATT MASON, THIS BENDABLE FIGURE WHICH I THOUGHT WAS SO BEAUTIFULLY DONE AND WELL-CRAFTED. MATTEL ALWAYS HAD THIS PRISTINE QUALITY, AND IN THIS FRESH NEW FORMAT THE MASON STUFF HAD A WONDERFUL LOOK. OTHER THINGS THEY DID TENDED TO LOOK LIKE THE ULTIMATE PLASTICIZED AMERICA SEEN FROM THE CALIFORNIA VANTAGE POINT. BUT THIS HAD A TOTALLY NON-SHOPPING MALL QUALITY
ABOUT IT.
WITH COLORFORMS AT TIMES YOU WERE ABLE TO ACHIEVE A REASONABLE COMPROMISE OF ART AND COMMERCIALITY?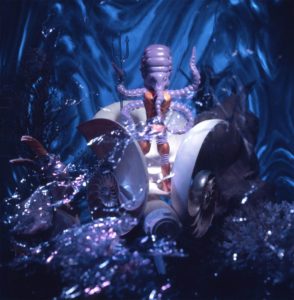 IT IS WONDERFUL, THE COLORFORMS FORMAT! WITH WHAT I'M DOING NOW, THE INVENTING… YOU THINK OF AN IDEA AND YOU GO OUT AND TRY TO SELL IT. THEN YOU WATCH THEM DESTROY THE IDEA IF THEY DO BUY IT. AND ALL YOU DO IS BEG THEM, YOU HOPE THEY BUY IT AND DESTROY IT. YOUR DESIRE CAN'T GO FURTHER THAN T HAT. HERE'S MY HEART AND SOUL, TRAMPLE IT PLEASE. BUT DON'T REJECT IT, I NEED THE MONEY.
AT COLORFORMS YOU HAD A SITUATION WHERE YOU WOULD SET-UP IN HO-- USE WITH OPERATIONAL CONTROL.
THAT PART WAS GREAT, BUT ON THE OTHER HAND IT WAS A HOPELESS THING BECA-- USE THERE WAS NO WAY COLORFORMS COULD SELL MOST OF THE STUFF WE WERE MAKING. BUT HARRY NEVER STOPPED TRYING OR SPARED THE EXPENSE. HE WAS A REAL DREAMER. AND UNFORTUNATELY THE COMPANY DID NOT GROW FOR YEARS AND YEARS. IT JUST STAYED STAGNANT. AND HE WAS FRUSTRATED BECA-- USE NOTHING WE DID EVER WORKED AND IT WASN'T THE FAULT OF THE THING IT WAS THE FAULT OF THE PEOPLE AT COLORFORMS AND THE BASIC "RULES" OF THE TOY INDUSTRY GAME. WE HAD A WEAK TEAM AND WE WERE ALSO TRYING TO BREAK THE RULES AS WELL.
HARRY PUT TOO MUCH OF HIS HEART AND TOO LITTLE OF HIS HEAD INTO THE WORK?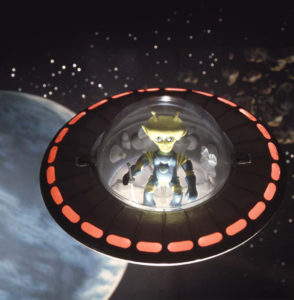 REALISM HAD NOTHING TO DO WITH IT. WE WERE BOTH SO NAIVE TO THINK "MAKE A GOOD TOY AND THE WORLD WILL BEAT A PATH TO YOUR DOOR." WE THOUGHT MERIT WAS WHAT COUNTED. BECA-- USE THAT'S WHAT HE HAD DONE. HE HAD MADE COLORFORMS AND SUDDENLY IT WAS A SUCCESS. HE THOUGHT THAT'S THE WAY IT ALL WORKED. IT DOESN'T WORK THAT WAY. BUT IN A WAY IT DID. OF COURSE, WE DIDN'T REALIZE THIS AND WE WERE ABOUT TO BREAK THE RULES AGAIN AND THIS TIME TO SOME DEGREE OF SUCCESS. ANYWAY, THE CONCEPT THAT CAME OUT OF THE CONVERSATION WAS TO MAKE EQUIVALENT FIGURES TO MATT MASON THAT WOULD BE BASICALLY ASTRONAUTS FROM OTHER PLANETS AND SOLAR SYSTEMS. THE PREMISE WOULD BE AMBIVALENT AND HEROIC. IT'S IRONIC NOW THAT THE CONCEPT OF "BOYS ACTION FIGURES" HAD COME INTO THE WORLD, AND IT IS THE MAIN BOYS CATEGORY. GOOD GUYS VS. BAD GUYS. HOW TO KILL EACH OTHER IS WHAT THE AMERICAN POPULACE CONSIDERS "PLAY VALUE." THAT'S IT! IS THERE ANY PLAY VALUE? YEAH, THIS GUY CAN CUT THIS GUYS HEAD OFF, AND THIS GUY CAN SHOOT THIS GUY AND HE THROWS THIS AT HIM" AND THAT'S THE PLAY VALUE.
DIFFERENT TYPES OF DEATH.
EXACTLY. THE WAYS THEY KILL EACH OTHER IS "PLAY" FOR BOYS. THIS CONCEPT DID NOT EXIST WHEN THE SPACEMEN WERE DESIGNED (1966). G.I. JOE DID NOT HAVE ANYONE TO FIGHT. GOOD AND BAD AS STIMULUS FOR PLAY DID NOT EXIST. WE REALLY WERE IN A KIND OF PUSSY-ISH WAY INTRODUCING THE BAD GUYS. BUT WE DIDN'T WANT THEM TO BE JUST BAD GUYS, WE WANTED THEM TO BE BAD OR GOOD AND LET THE KID DECIDE HOW HE WANTED TO -- USE THEM. WE WERE VERY CALCULATING ABOUT IT. WE WERE REALLY MAKING A MATTEL PRODUCT. OUR WHOLE IDEA WAS TO MAKE IT VERY APPARENT THAT THE SPACEMEN WERE TO BE -- USED WITH MATT MASON. OUR INTENT WAS TO KEEP THE JOINTS EXACTLY LIKE MATT MASON. INSTEAD OF COMING UP WITH SOMETHING MORE ORIGINAL, WE SHOULD MAKE THOSE ACCORDION-LIKE JOINTS BE THE FOCAL POINT WHICH SAID "THIS IS PART OF THE MATT MASON LINE." THERE ARE JOBBING COMPANIES THAT ACT AS GO-BETWEENS WITH FACTORIES IN THE ORIENT. MANY TIMES THESE PEOPLE OWN FACTORIES IN THE ORIENT. HARRY TRACKED DOWN THIS GUY GENE REUBEN OUT ON LONG ISLAND, WHO HAD A LOT OF FACTORIES IN THE ORIENT, AND ASKED HIM IF HE COULD MAKE THIS PRODUCT. ALL HE NEEDED WAS MODELS TO WORK WITH. THAT WAS IT, AND WE STARTED DOING IT. COLORFORMS DIDN'T EVEN KNOW THIS PROJECT WAS HAPPENING. THEY NEVER KNEW HALF OF WHAT HARRY WAS DOING. HE WOULD HAND IT TO THEM WHEN THEY FOUND OUT, NO ONE WAS HAPPY BECA-- USE THIS WAS MAKING WAVES. NOBODY WANTED ANY
WAVES MADE.
MORE RESPONSIBILITY, MORE PRESSURE, MORE CONFIDENCE?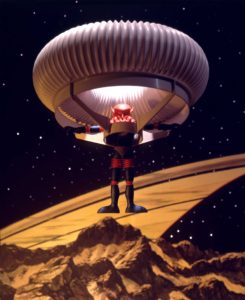 EXACTLY. THEY REGARDED HARRY AS A CRAZY AND ECCENTRIC PAIN-IN-THE-ASS. HARRY DIDN'T GIVE A SHIT AND SAID "LET THEM EARN THEIR MONEY." I HAD TO GET SOME STARTING POINT, SO I GOT OUT MY STACKS OF FAMOUS MONSTERS OF FILMLAND MAGS WHICH I HAD BOUGHT STARTING WITH ISSUE #2. DON'T IMAGINE THAT A LITTLE KID WAS BUYING HIS FIRST ISSUE. I WAS 21 AND JUST MARRIED, "AN ADULT" AND I HAD EVERY SUBSEQUENT ISSUE. 60 OR MORE. NOW I WAS USING THEM. I WAS LOOKING FOR SOME JUMPING OFF POINT TO GENERATE AN IDEA FOR THESE THINGS. I GO BACK NOW TO MARVEL AND WHAT BY TODAY'S STANDARDS WOULD BE ALMOST PLAGIARISM TO THE POINT OF LAWSUIT. AT THIS POINT IN TIME TO SEE THESE CHARACTERS FROM WHICH THERE NEVER WERE ANY TOYS, OR EVER WERE GOING TO BE ANY TOYS, AND WERE A FLEETING IMAGE IN SOME BLACK AND WHITE MOVIE YOU'D SEEN AS A KID THAT YOU REALLY LIKED, IT SEEMS ALL RIGHT TO BE INSPIRED BY THEM. WITHIN THE FIRST SERIES THE ONE GUY IN THE METALUNA MONSTER.
FROM "THIS ISLAND EARTH"?
A FILM WHICH I HATED.
QUITE DULL, YOU ONLY SEE THE MONSTER IN THE FILMS FINAL MINUTES.
BUT I FOUND MYSELF PICKING THAT ONE.
(POINTING AT ELECTRON+) AND THIS ONE?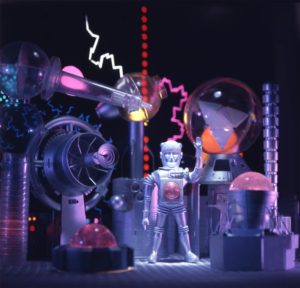 THAT'S THE MAN FROM PLANET X. NO DOUBT ABOUT IT. AT ONE POINT PEOPLE HAVE MENTIONED TO ME THAT THEY THINK THE GUY FROM VENUS IS FROM BARBARELLA. NOT THE CASE, I THINK THAT WAS A LATER FILM.
1969 I BELIEVE.
SOMETHING LIKE THAT. I CAN SHOW YOU WHERE THAT ONE CAME FROM IF YOU LIKE.
SURE, I LIVE TO SEE THIS ORIGIN STUFF.
(PLACING A BOOK ON THE TABLE) THERE HE IS. A FRENCH BOOK IN EROTIC ART. VERY CLOSE, I EVEN DID THE BIRD PATTERN ON HIS LEGS.
(PHONE RINGS) THE COMMANDER COMET WAS BASED ON T. SLEBARDS PAINTING "SATAN, MERMAID AND DEATH" A FRENCH WORK OF EROTIC ART.
TRYING TO SELL TOY PRODUCTS IS LIKE MUSICAL CHAIRS. NO MATTER HOW GOOD IT IS YOU HAVE TO BE IN THE RIGHT PLACE WHEN THE MUSIC STOPS.
NOW YOU'RE IN A PLACE WHERE IF YOU DON'T HAVE THE SELL, IT DOES NOT MATTER HOW GOOD THE TOY IS AT ALL.
IT'S A TOUGH BUSINESS. TO SELL THE SPACEMEN TODAY YOU HAVE TO WALK IN WITH 65 ½ HOURS OF TELEVISION FINANCED.. MORE INFORMATION COMING SOON!!